*********************************************************************** 
In our garden repose the remains of those that possess beauty without vanity, strength without insolence, courage without ferocity, and the virtues of man without his vices: our pets. ~Lord Byron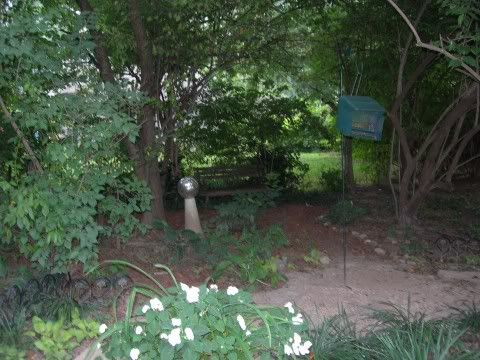 My backyard isn't very large, so I have divided it into "rooms" with a central grassy area. Gardens hidden from view and pathways make the yard look much larger than its actual dimensions.  Over an extended period of time, I have created an oriental garden, a vegetable garden with two small raised beds and a grape arbor, an herb garden, a "French" garden planted with miniature fruit trees, a pond area, a berm planted with roses, annuals and perennials, a patio area, and an area reserved for a future tropical garden and hopefully, a bali-type deck. The yard also has a small woodland area with a bird feeder, pathways, and a bench where I can sit, read a book, reflect, or escape the heat when I work in the yard on a hot summer day. This area is also the final resting place for many of our dogs, cats, and other non-human family members. At least three dogs, five cats, a chameleon, two hamsters, two guinea pigs, several frogs, two hermit crabs, and 100 fish are buried under the shade of the trees and covered by hostas. When I sit on the bench I often think about those who are no longer with us and whose absence has left a tear in the fabric of our family. They were loved; they are missed; and they are remembered.
     Several years ago while my family was saying our last goodbyes to Windsor, our 13 year old West Highland White Terrier who died unexpectedly, the bells at a nearby church began to ring. This occurred at 6:00pm and was an unexpected source of comfort as if someone other than our family noted Windsor's passing. This was the beginning of a family ritual. Every burial in our woodland garden is now held at 6:00pm. We say a few words over the grave, read a poem or quote, and always cry as the church bells ring. The lives of those little ones who are gone enriched our lives and their deaths have created a void that can't be filled.
     The deaths of dogs and cats who are killed at shelters for the most part go unnoticed and unheralded except by a few shelter employees, volunteers, rescuers, and others who do all they can to save the lives of society's cast-offs. Instead of a memorial service with mourners and a final resting place, these poor unloved, unwanted creatures end up in trash cans, incinerators, landfills, or freezers where they await sale to a university or research facility.  
     We criticize and demonize countries where dogs, cats, guinea pigs, and other animals are considered as food sources, yet many people find nothing wrong with the practice of killing unwanted animals as a "solution" for shelter overcrowding, overpopulation, and homelessness. The American Society for the Prevention of Cruelty to Animals, the first humane society in the United States, was founded in New York in 1866. The first animal shelter in America was created in 1869 by the Women's SPCA of Pennsylvania. Over 145 years have passed and our society still hasn't progressed beyond the warehousing and killing of unwanted animals. Why do we continue to believe that killing is a reasonable and acceptable solution? Why hasn't our society embraced no kill and low kill shelters, spay/neuter, and creative solutions to a problem created by humans?
     We need to change our mindset. We need to think outside the box and convince others that killing unwanted, homeless animals is wrong, unjust, inhumane, and immoral. People who murder, rape, and commit other horrendous crimes are given shelter, food, health care, educational opportunities, and other benefits that many Americans can barely afford, yet we give a death sentence to innocent animals whose only "crime" is to be homeless. Animals don't deserve to be warehoused and condemned. They don't deserve to die alone, nameless, and unremembered. Killing is not a solution.

The bottom line is that as long as people believe that killing homeless pets is one of those "necessary evils" that can never be stopped,
then it will never be stopped.
~ Michael Mountain
***********************************************************************