*********************************************************************** 
What can we take on trust in this uncertain life?
Happiness, greatness, pride - nothing is secure, nothing keeps.
~Euripides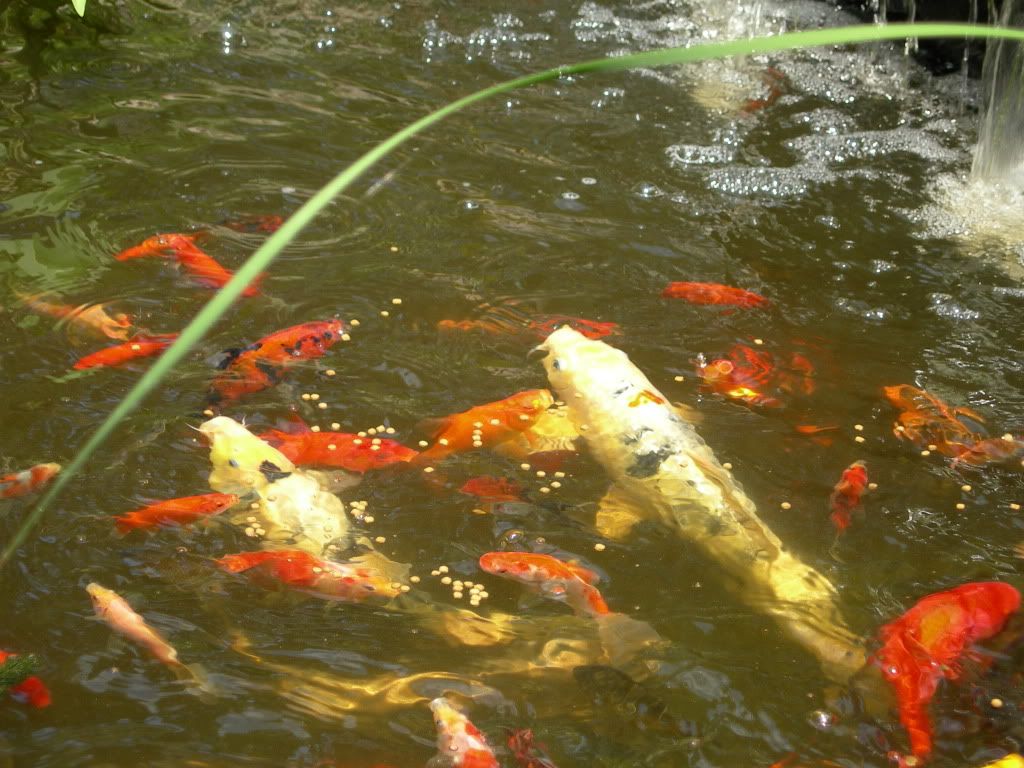 Several years ago my youngest son, my husband, and I decided to dig a pond in our backyard on the site of our no-longer-used trampoline. The grass below the trampoline had died long ago and the location received sun for most of the day. The project was ongoing for several years. My son started the excavation and dug out roots from long dead trees that crisscrossed the area. As the work progressed, my daughter and her friends camped out by the site and my husband built a bonfire in the excavated area. After two years of stop-and-go efforts, we created a round pond 18 feet across. The pond was 3.5 feet deep at the deepest of its three levels, and included a small stream and waterfall.

     The first year we stocked the pond with a few fish. We purchased two 3 to 4 inch koi at a local pond store and named them Keiko and Hot Lips. We also purchased four comets and three shubunkins. Over the next few years the koi grew, the comets and shubunkins reproduced, and we added more small koi that we purchased at a pond store and at the Louisville Koi and Goldfish Club's annual koi show and fish auction.
     We were lucky. Our pond had few casualties and the fish were healthy. We took pride in the fact that we were so successful in keeping our fish safe and alive. Unfortunately, we failed to heed the axiom: expect the unexpected. One  day in midsummer we discovered that one of our fish, a large yellow koi named Sunshine, had become caught in the filter and had died when the water level had fallen. He was the first of our koi to die. Although we blamed ourselves, we realized that accidents do happen and some are not forseeable or preventable. Little did we know that the worst was yet to come.
     The following week the daily temperatures exceeded 100 degrees. My husband was out of town on business. Unbeknownst to me, my son put the hose in the pond because the water level had gotten low. My son became distracted and forgot about the hose. When Macallan, our wheaten Scottie, came into the house with wet feet, I was confused because we hadn't had any rain in weeks. My investigation led to the pond, which had overflowed its banks. Fish were floating on their sides. It was one of my nightmare's come true. I called some "experts" for advice and was instructed to drain some of the water and then add more water by spraying a hose on the pond, which would also cool it down. In our panic we failed to recognize that it wasn't the heat that was killing the fish, but the chlorine from the newly added water. Over a 24 hour period we lost 11 of our 13 koi and over 100 comets and shubunkins. They died a slow and agonizing death. All of our attempts to help them failed. As my son buried the fish in a mass grave in our garden, he measured Hot Lips who had grown from 3 inches to 22 inches in a few short years.
     We were devastated by the loss. I had blamed myself for playing a role in Sunshine's untimely death, but in retrospect Sunshine would most likely have died with the others. Whatever luck we had enjoyed with our pond was gone. Having to accept that we killed over 100 of our fish was bad enough. What made it even worse was the knowledge that koi can live 100 years. I had assumed that our koi would outlive me.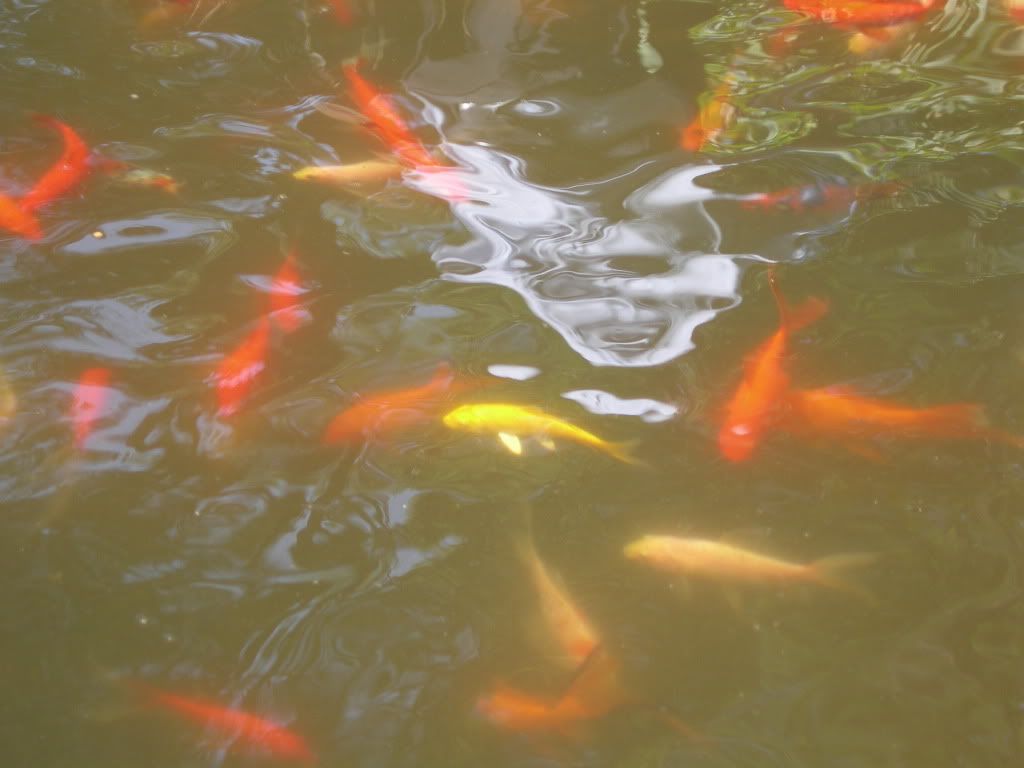 The loss of almost all of our koi and 100 other fish within a few days time was unbearable. I kept reliving those awful days in my mind and wondering what I could have done to have prevented the tragedy. Trying to find answers and looking for solace, I thumbed through some photographs I had taken shortly before Sunshine had died. One of the photos had something in it that I had previously overlooked. A trick of the light or a reflection looked like the face of a demon floating on the water. If I was superstitious, I could almost believe it had been a warning or omen of bad things to come and I, in my ignorance and naievity, had overlooked it.

     For the next two years I lost interest in the pond. It was painful to look at the two koi and the few comets that had survived the holocaust. I no longer took joy in daily feedings and I had no desire to watch the fish which had previously enthralled me for hours. When I worked in the garden I missed hearing the smacking sound that Kieko used to make as he ate algae. As time passed and the ache lessened, we slowly restocked the pond. On Memorial Day weekend of the year following the accident, we attended the annual koi show and purchased four small koi and named them Jin, Sun, Akage-ru and Migoto. Unfortunately, Jin and Sun - named after two characters on the television show "Lost" - did not survive for long. I have come to understand that life is precarious and that our happiness hangs upon a thread that can be broken at any time.

     The pond currently has 13 Koi, including Noname and Sashimi - the two koi who survived the accident - one shubunkin, and many comets. Although I feed the fish every day and spend time watching them as they glide in the tranquility of the pond, it will never have the same attraction for me. In the back of my mind I can't help thinking of all that we lost one hot summer day and all who are buried in my garden.
I wanted a perfect ending. Now I've learned, the hard way, that some poems don't rhyme, and some stories don't have a clear beginning, middle, and end. Life is about not knowing, having to change, taking the moment and making the best of it, without knowing what's going to happen next. ~Gilda Radner
***********************************************************************