***********************************************************************   
One need not be a chamber to be haunted; One need not be a house;
The brain has corridors surpassing Material place.
~Emily Dickinson
      I am haunted by ghosts. Not the kind that go bump in the night or send shivers up your spine, but memories of the unwanted and unloved in our society. They come late at night on silent paws and disturb my sleep. They are the ghosts of dogs and cats that never lived in my house or felt the touch of my hand, but their sad, hopeful, confused faces in photos posted online or sent to me in emails are permanently etched in my mind.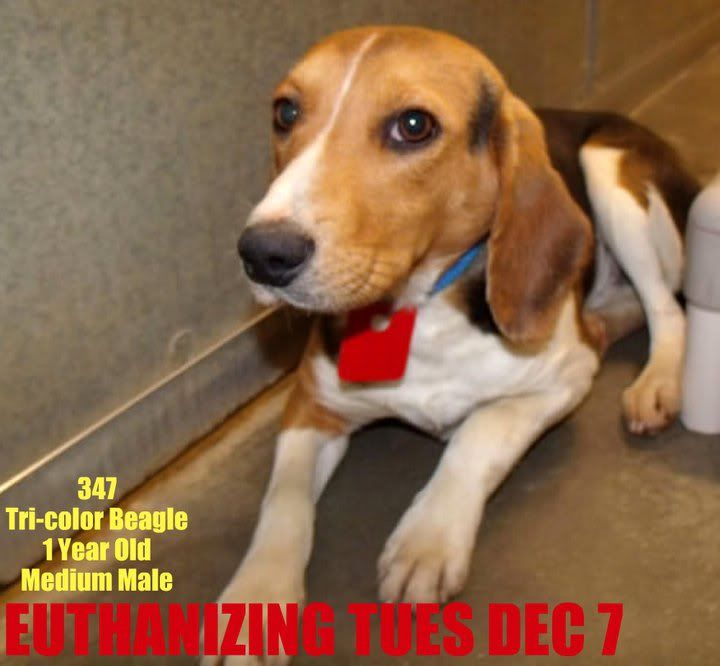 These two dogs, #149 and #347,  were in a rural high intake/high kill shelter. They had no names and were given numbers to identify them. They were not adopted, rescued, offered a foster home, sponsored, or given a reprieve within the small period of time allotted to them, so they were killed.
    Yesterday was like every other day at an animal shelter. Unwanted dogs and cats were euthanized due to lack of space or, in some cases, "because their time was up." The HSUS estimates that animal shelters care for 6-8 million dogs and cats every year in the United States, of whom approximately 3-4 million are euthanized. At this time, there is no central data reporting agency for animal shelters, so these numbers are estimates.
     While some shelter employees were going about their work of selecting and dispatching the cast-offs of our society, others were sending out pleas and begging for help for the dogs and cats whose only crimes were to be unwanted and homeless. Last December #149 and #347 were two of those unwanted animals. More dogs and cats were coming into the shelter, so room had to be made. Several dogs and puppies were placed on "The Euth List" and messages were sent out that they had to be removed from the shelter IMMEDIATELY or they would be killed. Some of these dogs were eligible for euthanization the day they were available for adoption/rescue. No cats or kittens were mentioned, but presumably they too were in danger.
No other disease or condition of companion animals takes as many lives as euthanasia. In fact, no other disease comes close. ~Janet M. Scarlett
     Today, shelters euthanize around 4 million animals, while there are more than 135 million dogs and cats in homes.  An animal in a shelter is killed every 1.5 seconds. Only one animal in 10 born in the U.S. gets a good home that lasts a lifetime. In Kentucky alone, 285,000 animals are relinquished to shelters or are abandoned each year. Kentucky is ranked #1 as the state to be an animal abuser and #50 in animal protection laws.  Eighty-five percent of homeless animals in the state are euthanized. Kentucky has more than three times the average number of animals in shelters and the kill rate is 15% above the national average. Cats and kittens are the step-children of the rescue world and do not get the exposure given to dogs and puppies. Some shelters kill 90% or more of their cats and kittens.
     People have sent me angry emails and messages accusing me of making them feel guilty because they have relinquished a pet to a shelter or because they "can't afford" to have their dog or cat spayed/neutered, resulting in unwanted puppies and kittens. People have also criticized me because I post updates about animals that have been euthanized. Recently someone posted on the website's Facebook page and stated that they were "unfriending" me because I had posted an update for a dog that had been killed in a shelter. Someone came to my defense and posted the following:
     "Those of us who spend countless hours each day and each week sharing, posting and cross-posting to expose the urgency of the dire plight of these pets' situations - through NO fault of their own - NEED to have closure on the animals we spend so much time networking. We share and cross-post numerous times for each animal and we feel a connection with these precious creatures. We don't just click "Share" and don't give them another thought; we think of them each and every day and as we try to fall asleep at night their images are the ones we see before finally drifting off to sleep, only to have their pleading, soulful eyes haunt us in our dreams.
     NO, we don't and CAN'T forget them, and they stay in our minds and in our hearts until we know they are safe. And for the ones who aren't lucky enough to make it out alive and find their rescue angel or furever home...they never leave us and it is for them that we continue to do what we do, as heartbreaking as it all too often is. So, YES, we need to have these updates; as upsetting and disturbing as they may be.
     But, what is even MORE UPSETTING AND DISTURBING is that these precious innocent souls end up in these Hell holes in the first place! The more eyeballs that see what is really going on - the good and the evil, the happily-ever-after and those that never get their happy endings - the MORE precious innocent lives can be SAVED! We CANNOT filter out ONLY the happy endings and pretend they will all be saved."
(Thank you Kacie C. for expressing so eloquently what many of us feel.)
     The memories of dogs like #149 and #347 haunt me. They did not deserve to die abandoned and alone, cowering in corners of runs and cages, pleading for love and life with sad, frightened eyes. Euthanizing and warehousing animals in shelters is not a solution to over-population and overcrowding. The way these animals were treated was cruel, inhumane, and unconscionable. Until we take responsibility for our actions and find reasonable, rational solutions, the killing will continue...and my dreams will be disturbed.

       R.I.P. #149 and #347. We will not and cannot forget you.
***********************************************************************