***********************************************************************  
Imagine not ever being able to walk freely, touch the ground, enjoy a kind word and caring caress. Now imagine this lasts your entire life. The only contact you have is to be removed from your cage, ravished, then nothing more. When you're no longer able to conceive, you're thrown in the trash, literally. This is the life of a puppy mill dog.  ~Donna S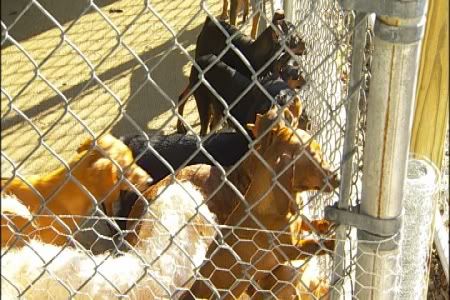 What kind a person (other than a legitimate breeder - a subject for another day) breeds animals for profit? Puppy mill operators and backyard breeders view animals as products. They don't care about the conditions of their "factory," if the product is good or shoddy, or what happens to their product once it leaves the premises. The bottom line is about making money. Human decency and common sense don't enter into the equation.
     This week a plea was sent out - "EMERGENCY - 118  dogs seized from puppy mill." This is a terrible situation for many different reasons. The first responders had the unenviable task of  going into a situation that is incomprehensible to the average person. They had to evaulate the animals, help those who required immediate assistance, and transport all of them to safe places. Many of these dogs and puppies were probably in poor condition - overbred and interbred, no vet care, and no socialization. The terrible living conditions have probably caused a myriad of problems. Initially, these dogs required vet care, grooming, and temporary housing.
"I am a small breeder in eastern Kentucky. My grandchildren are a big help in getting the puppies ready for their new homes. They love playing with the new puppies, but like me they hate to see the puppies (to) leave."
~Pat B. posted on PuppyFind.com
     According to news accounts, the conditions at this puppy mill/breeding facility were deplorable. Adult dogs, puppies, newborns, and pregnant females were living in a single wide trailer. Some of the rescued dogs "had mold growing on them, rotted teeth and dead rats in their cages....some were found with broken bones...others malnourished...and some living with their own feces inside the crates."  Three small dachshunds were unable to stand.  At least one dog died.
     The rescue of dogs from a puppy mill often has a negative impact on others. Many times rescued puppy mill dogs are taken to a local shelter. Since many shelters are always at capacity, the current residents are in danger of dying to make room for incoming animals. More pleas are sent out begging people to help. Lives are at stake. The rescuers are overwhelmed. They need volunteers to help take care of the rescued animals and donations for medical care, food, and medicine. The outcome at this stage depends upon the humanity of those involved in the initial rescue. Several years ago, when a puppy mill was closed, all of the animals were taken to a rural high kill shelter that accepted animals from several different counties. The shelter manager would only allow one dog per run. The intake of  many new animals to an already crowded shelter created a crisis situation. The shelter manager's solution was to kill the animals already in the shelter to make room for the new dogs. Since the puppy mill dogs were held until the court could make a determination, all subsequent intakes were killed.
     The dogs from the current situation have been taken to a rural shelter. Thanks to a rescue group that strives to make this shelter low kill, the current residents of the shelter have been moved to another county and are being temporarily boarded at a shelter that recently closed. The rescue is actively seeking foster homes and rescues, as well as volunteers and donations.
I have three rescued breeder dogs from Missouri puppy mills. Puppy mill dogs are the sweetest, most appreciative dogs on the planet. It's like they know they've just been given a second chance at life! ~Karin T
Two of my dogs were rescued from a puppy mill in Missouri. They and their parents were kept in a trailer that had no air conditioner during a hot summer when temperatures exceeded 100 degrees. Ballantine and Pinch were lucky. They were relatively healthy and adopted within a month of rescue. My son and I drove 16 hours round trip to adopt them. Although they are siblings, Ballantine and Pinch are as different as night and day. They differ in looks, personality, temperament, fur texture, and body length. Truth be told, Bally is not a good example of the breed, which indicates the indifferent manner in which they were bred. Both dogs are small in size for Scottish Terriers, weighing less than 20 lbs each.  When the rescuer placed them in my hands, I thought they were the most beautiful puppies I had ever seen. I hate to think about what they and the other dogs in the trailer must have endured before they were rescued.
These are strong and resilient creatures. They don't need our pity, or our unproductive anger. They need for us to stand up, to speak up, and to act, because they can't. People are responsible for the horrors that are puppy mills; people must be responsible for the solution as well. ~Katherine R
~*~~~~~~~~~~~~~~~~~~*~
More Information & Links:
Advertisement for puppies for sale (Ad has been removed):
http://www.puppyfind.com/view_listing/?list_id=uffc81707r&back=%2Fl%2F%3Facct_id%3D335023%26country%3D%26state%3D%26page%3D1%26order_by%3D%26back%3D&alert=sent&sid=1a7e4346676096e979e7415da7f2f338
118 Dogs Rescued From "Deplorable Conditions"
http://www.lex18.com/news/118-dogs-rescued-from-deplorable-conditions-/#.To56uhauEQs.facebook
This was not a new situation at this "small breeding facility." A search online found that people were commenting about this puppy mill as far back as 2009. Puppy mill in Morehead > Comments from Dec 2009 & Jan 2010!!  http://www.topix.com/forum/city/morehead-ky/TV55USS8V2GQ2CLN4
HELP THE RESCUED DOGS & THE DOGS NEEDING RESCUE FROM THE SHELTER: To Donate, Foster, Rescue, Adopt, or Volunteer:
Saving The Animals of Rowan (STAR)
www.petfinder.com/shelters/KY251.html
Contacts: StarAdoptions@yahoo.com & cc juliatat@yahoo.com
More information about puppy mills: The Horrors of Puppy Mills
http://fortheloveofthedogblog.com/the-horrors-of-puppy-mills
***********************************************************************