***********************************************************************
~GILLIGAN ~ R.I.P. This pitiful old boy was horribly abused, punctured, beaten, thrown over the fence at the pound, and died at the vet's office.  His little body could not take anymore.
     October is one of my favorite months of the year. I love everything about the month: cooler weather and the almost too perfect days of Indian Summer, fresh cider, pumpkins, chrysanthemums, apples picked right from the tree, leaves changing to eye-catching hues or orange, yellow, brown and gold...and the crunching sound the fallen leaves make under my feet as I walk my dogs. The best part is that all of these sensory pleasures culminate in Halloween. Every day my anticipation grows as I decorate the house inside and outside, plan our annual Halloween party, bake cookies, and buy treats and candy to hand out to the trick or treaters who enjoy every eerie aspect of my yard as much as I do.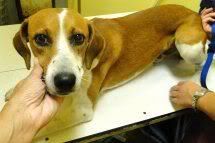 ~ BULLET ~ GUNSHOTS! Dumped in a rural area and then found whimpering under a house. Shot by 3 different guns. A rifle, and 2 pistols. Unsure if one person used 3 guns or if 3 people had a shooting spree. Also had old fracture of  femur which had healed. This dog is incredibly sweet and was not a threat to anyone.
     My fondest childhood memories are of creating costumes from anything I could find around the house, going to Halloween parties, and trick or treating with friends. Vampires, werewolves, and Frankenstein's monster were my companions. My mother and I shared a love for cheesy scary movies and I can clearly remember walking home from the neighborhood movie theater on a fall evening, in the days when local theaters existed and walking was a common practice, and discussing the attributes of Dracula in the movie we had just seen. He had been dashing and handsome... very much like Edward Cullen in the Twilight series.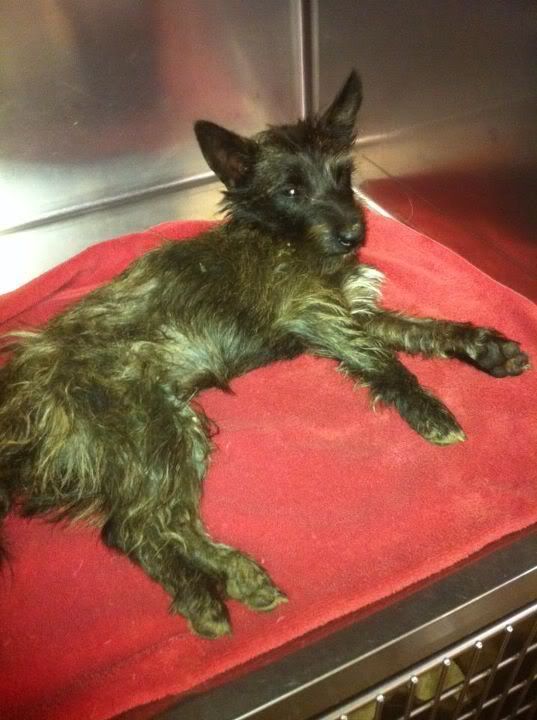 ~ FRANCINE ~ PELVIS FRACTURE! The road department found this girl in the ditch while mowing. She appeared to have been there a couple days. Francine has a broken pelvis which needs to be plated.  She's only a year old and weighs 10lbs.
     I am not a fan of slasher movies. They show a lack of imagination. The blood and gore is gratuitous and only serves to desensitize people to cruelty. I don't understand why graphic violence is a source of entertainment. I can conjure up enough of my own horrors without having to view them on the wide screen or in my home. I had hoped humans would have evolved beyond the days when fighting to the death in arenas and watching public hangings were popular events.
Anyone who has accustomed himself to regard the life of any living creature as worthless is in danger of arriving also at the idea of worthless human lives. 
~Albert Schweitzer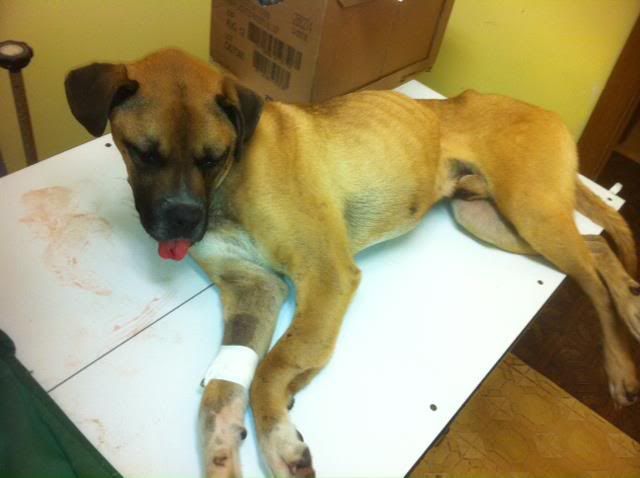 ~ CARL ~ GUNSHOT! FRACTURED JAW & LEG! Half starved as well. Broken front leg needed plate. Upper and lower jaw broken. Tail was still wagging.
     When I was a child, my grandmother said to me, "The only real monsters in the world are people."  At that time I understood her words based on my experiences as a child. I believed she was explaining to me that the monsters in movies and in my nightmares weren't real. However, as I grew older I realized that my Grandmother's words had many levels of meaning. Monsters are everywhere...and they are people. We only have to watch a local newscast, read a newspaper, or search online to see the horrors created by humans. We bully and intimidate others. We are neglectful, irresponsible, and cruel. And then there are those who abuse, torment, and kill - the monsters who take pleasure in the helplessness of others, especially animals and children.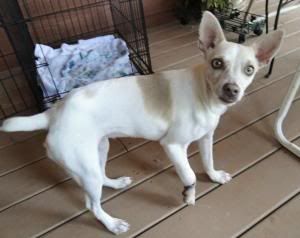 ~CAROLYN ~GUNSHOT! Carolyn was found on the side of a road in a rural area with a injured leg. She had been shot. She is a very sweet dog that was probably dumped. Her age is about a year old, as she still has one puppy canine tooth. Carolyn weighs about 12lbs.
     I am always shocked by how people treat animals, but the reality is that the most vulnerable members of our society are easy prey. Last year I started keeping track of the "reported" cases of animal abuse in Kentucky. I emphasize the word "reported" because many cases of abuse are undetected. The victims do not have a voice.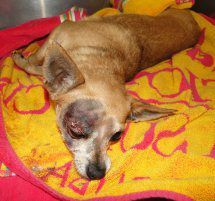 ~ DOT ~ EYE INJURY!  6 Year Old Chihuahua with Eye Hanging Out! Vet sewed it back in, but doubt she will see out of it again. She also has a fractured pelvis. Not sure if the trauma was from the end of a boot or from being hit by car. Owners didn't have the gas money to get her to vet. Neighbors told them to shoot Dot. The dark shading around her eye is bruising and the stitches are to hold the third eyelid over the eye to see if it will reattach. Dot's rear leg is just dangling.
     Every day brings another horror story. All of the dogs pictured here are from one county and all of the abuse occurred recently, within a very short period of time. There are 120 counties in Kentucky. I can only assume, but try not to imagine, that more atrocities have occurred. Studies have long shown the correlation between animal abuse, criminal behavior, and violence towards humans.  We need to acknowledge that cruelty to animals is wrong and unacceptable. We need to speak for those who can't speak for themselves and demand that cruelty be harshly punished. We need to confront the real monsters in the world and stop them.

Dr. Carbone told me "We can choose not to look at or hear about animal abuse, but that does not mean it's not happening."   So simple yet so true.  I used to be a "can't look coward".  That only helped me - did nothing for the animals. Dr. Carbone is right - if animal lovers don't look animal abuse in the eye and help, who will? 
~E. Reed

***********************************************************************