***********************************************************************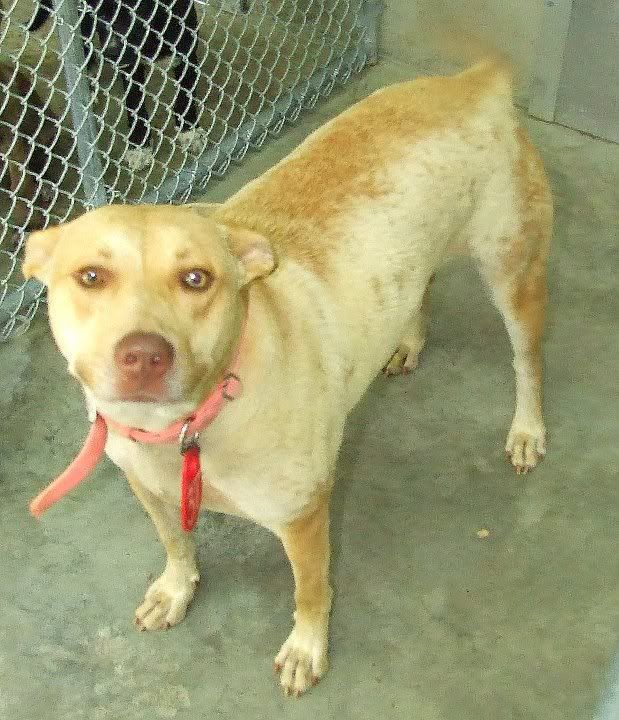 #37 Female Pit Bull Mix about 2-3 years old. Good With People Friendly and LOVES Attention. SHELTER FAVORITE. Cheated death twice. Sadly no one came for this girl and she was PUT TO SLEEP.
All that breathes is precious. Who is to say that the suffering of an animal is less worthy of solace than the pain of man? The spark of life is no dimmer simply because it is encased in fur or leather. ~ Anonymous
     I am having one of those "I'm as mad as hell and I'm not going to take it any more days"...except I don't have any power or control over all the madness in the world.  All I can do is rant and cross-post...and hope. Many shelters are overflowing and some are euthanizing (killing) for space TODAY. Some are killing because that is what they do every week, even though the shelter isn't full.  Pleas are being sent out, people are cross-posting - and everyone who cares is involved in a race against time - with the losers ending up dead.
     I look at the faces of all those unwanted animals and I can barely control my anger.  Why are these helpless, loving, trusting creatures in this position? Why do we as a society find it an acceptable practice to kill a  dog or cat just  because he or she is homeless?  When are the responsible people of the world going to say enough is enough and this behavior of catering to the irresponsible has got to stop?
For every animal that dies in a shelter, there is a HUMAN somewhere RESPONSIBLE for its death. ~Author Unknown
      I am tired of all the excuses (if they even bother to give one) from people who surrender their animals to a kill shelter, abandon them on the side of the road, or allow them to wander off without making an effort to find them.  What kind of person gets up in the morning and thinks, "I'm tired of feeding my cat, walking my dog, and/or taking five minutes to give this animal who relies upon me for life itself five minutes of my time"? No one moves or loses their home in one day. No one instantly becomes so busy they don't have the time to care for their cat or dog or to safely rehome them.  Why would anyone rent an apartment or home knowing the landlord does not allow pets? Why adopt a cat or dog if you know your circumstances will change in the future or you are unable or unwilling to make a lifelong commitment?  Why allow the birth of a litter of kittens or puppies when you know you don't want them...or their mother?
The senseless killings of doomed pets who are a sad byproduct of an ignorant and lazy society are an outrage. One would think America is a modern country, with an intelligent society, yet every day thousands of innocent pets die - because the mainstream does not get "being responsible."  ~Monika Courtney

     There are alternatives to killing and there are ways and resources to stop this constant influx of animals into shelters. Spay your dogs and cats instead of allowing them to have unwanted offspring. Low cost spay/neutering is available. If you are moving or must rehome your dog or cat, contact a shelter or rescue and ask if they will post a courtesy listing on their website. Network - contact friends, family, and coworkers. If your pet is ill, there are grants, groups, and people who are willing to help...I can testify to that as a beneficiary of the generousity of others. Food banks can provide food for those who are unable to feed their cats and dogs. Programs exist to find homes for unwanted senior and/ or disabled animals. Resources are available for all kinds of situations...you just have to make an effort to find out what is available instead of taking the "easy" route of placing the responsibility on others. Killing an unwanted animal should NEVER be an option.
Stand still, close your eyes and listen; in the silence you can hear the cries of pain and low moans of anguish of animals waiting to die... do everything you can even if today it is just one small thing. There are no excuses for inaction, despair, egotism, or petulance that matter to the animals.  ~Ashley Montague
***********************************************************************