************************************************************************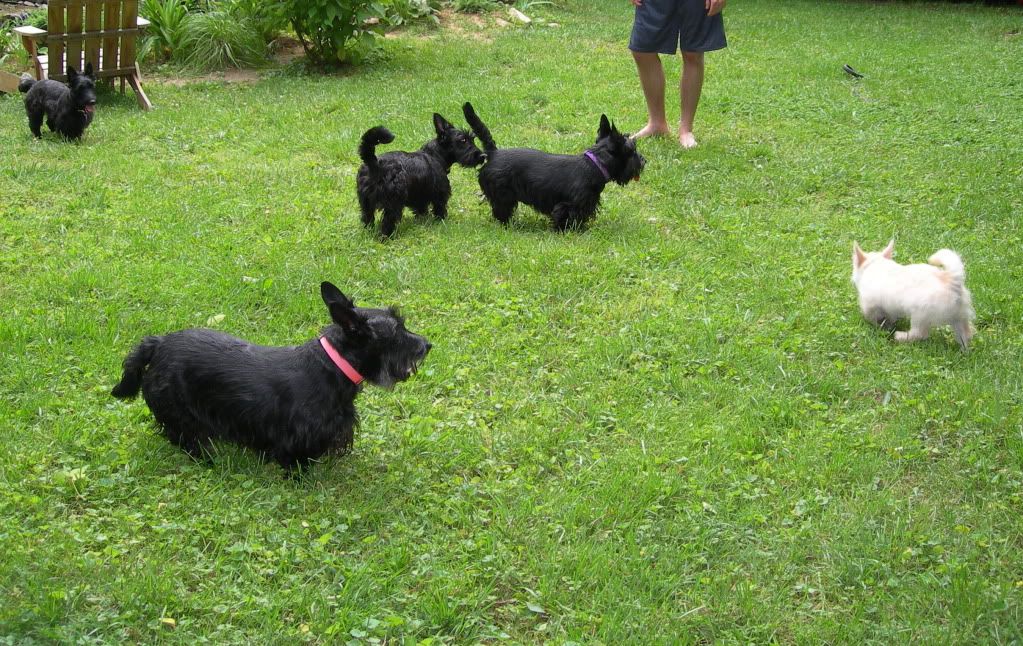 Six years ago, after our two elderly dogs died ten days apart, my family adopted two Scottish Terrier puppies. Ballantine and Pinch had been rescued from a puppy mill. Nine months later we adopted a third puppy, a wheaton Scottie, from the same rescue. Macallan was a kennel release who had been auctioned to the highest bidder. Luckily, a rescuer had the winning bid and not the puppy mill operator who was bidding against her. The third addition to our family made our family complete...or so we thought. Two months after we adopted Macallan, I received a phone call from the rescuer asking for a favor. Two six-year-old Scottish Terriers were being surrendered to animal control because their elderly owner had died.  The rescuer needed someone to drive to Cincinnati, take possession of the dogs, and ultimately put them on an airplane so they could reach the rescue.
     My husband and I drove to Cincinnati that afternoon. The dogs were temporarily at the home of the deceased woman's son and daughter-in-law. We were invited inside the house to complete the transaction. As we talked, four Scottish Terriers stood in a row outside the house with their noses pressed against a sliding glass door and looked at us. It was late May, but very hot. One of the Scotties was the mother of the dogs being relinquished. The daughter-in-law pointed to the two dogs she wanted to surrender, describing them by the color of their collars. The son advised us that the dogs' names were Rocco and Yoko Ohno. He handed us a folder which contained vet records and "baby" photos of the siblings, walked us to our car, patted both dogs on the head, and walked away.
As we drove back to Louisville, the dogs sat silently in the back seat. They were much larger than our Scotties and both were muscular and beautiful. They had been recently groomed and both had muttonchop beards which gave them a menancing look. I was almost afraid to turn to look at them. These two dogs were strange to me and I was a stranger to them. Despite my initial wariness, we soon discovered that both dogs had sweet dispositions. I couldn't understand how anyone could give them away or why the son gave us the photo of him holding a very tiny Rocco or the one of the litter of puppies with their mother whom the son still had. 
     Our three dogs readily accepted the newcomers and Rocco and Ohno showed no aggression towards our dogs. Initially, we kept Macallan separate from the others as a precaution because he was still a puppy, but within a few days all of the dogs were roaming the backyard as a pack, sleeping together, and sharing their food bowls. The new dogs even began to play/fight with Macallan just as Ballantine had when we first brought him home.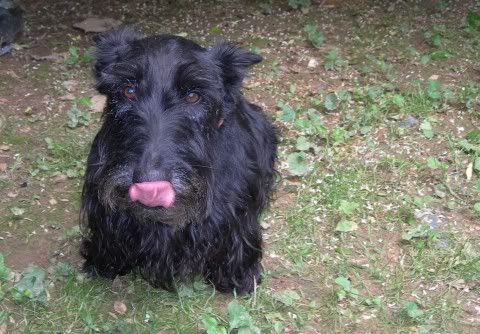 Our plan to put Rocco and Ohno on a plane were thwarted by the continuing high temperatures which made flying unsafe. The drive to the rescue was an eight hour trip one way and the rescue was overflowing with unwanted dogs. The hot weather continued. I quickly became attached to Rocco and Ohno. They accepted us as their new family and looked to us for for affection and companionship. When I took the two dogs to a veterinarian for their health certificates, they both pressed close to my legs as we sat in the waiting room. Looking at them with their sad brown eyes, I could barely keep myself from crying. These poor trusting creatures had lost the only home they had ever known, the person who loved and cared for them had died, and they were to be transported from one temporary home to another in the hope that someone, somewhere would want to adopt an older bonded pair of siblings. At that moment I realized it wasn't going to be easy to part with them.
     As the days passed, my affection for the two homeless dogs grew. Within a short period of time, we became a foster family. Days turned into weeks and weeks into months. Rocco (whom we started calling Walker) and Ohno bonded with our family and we with them. We began calling the five dogs our "herd of puppies" and their antics kept us constantly entertained. At some point my husband and I realized that we would never be able to find a "suitable" forever home for Walker and Ohno because they were already home. They completed us. As a failed foster mom, I have to admit...they had me at hello.  
The dogs in our lives, the dogs we come to love and who (we fervently believe) love us in return, offer more than fidelity, consolation, and companionship. They offer comedy, irony, wit, and a wealth of anecdotes, the "shaggy dog stories" and "stupid pet tricks" that are commonplace pleasures of life. They offer, if we are wise enough or simple enough to take it, a model for what it means to give your heart with little thought of return. Both powerfully imaginary and comfortingly real, dogs act as mirrors for our own beliefs about what would constitute a truly humane society. Perhaps it is not too late for them to teach us some new tricks.  ~Marjorie Garber
************************************************************************