***********************************************************************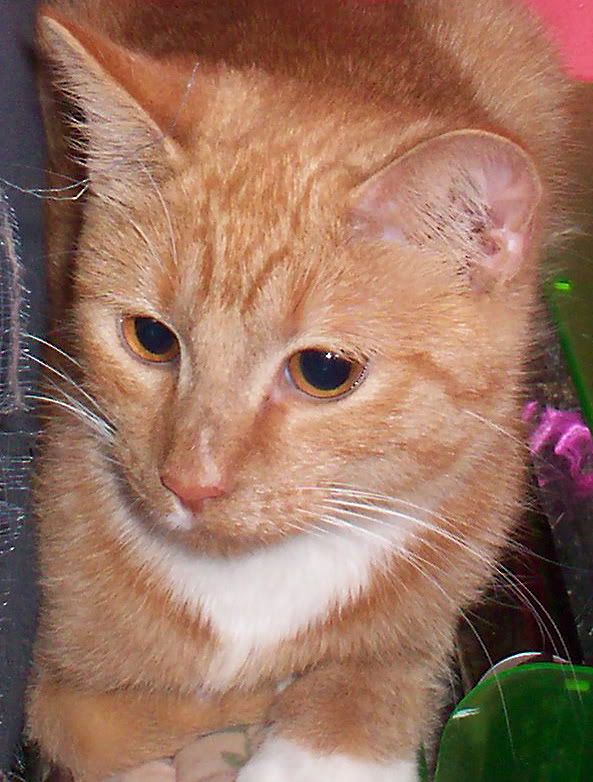 Sometimes being overlooked in a shelter is not a bad thing. "Archie" was a young yellow and white tabby in a high kill rural shelter in Kentucky. The shelter policy was to kill every animal in the shelter every week.  A volunteer did her best to find homes and rescues for the death row inmates, but she was always fighting a race against time. "Archie" had been in the shelter a few months. The volunteer posted a plea to a Yahoo group, "This young cat has been overlooked for weeks, but this week his time is up."  At the time I was fostering a mama cat and nine kittens. I had made an appointment with a veterinarian located in a county adjacent to where the shelter was located to have the female kittens spayed and I offered to take "Archie." I thought one cat similar in age and color to our foster family would go unnoticed by my husband and "Archie" needed a place to go.  My offer to foster was accepted.
    When  I arrived at the vet's office, "Archie" was already there, having been transported by the volunteer from the shelter. An examination of "Archie" prior to surgery revealed that he, was in fact, a she. I renamed her Angelica because it was close to Christmas. Angelica was spayed along with the other kittens and when I returned the following day, she came home with me, hidden amongst the others in a crate.

     Angelica made an easy transition into our home. Having one more kitten underfoot  didn't make any noticeable difference. The other cats accepted Angelica as one of their own. My husband didn't realize we had a stowaway until the day when he took the time to count all of them. As the weeks passed, some of the kittens found forever homes. Angelica's angel never came looking for her. Angelica is now four years old. She is a small, slender girl. Like her namesake in the Rug Rats cartoon, she is talkative, inquisitive, and makes certain we are always aware of her presence. She enjoys sitting on my son's lap when he sits at the computer and sleeps with him at night, snuggling under the covers. Angelica is safe and loved. She is home.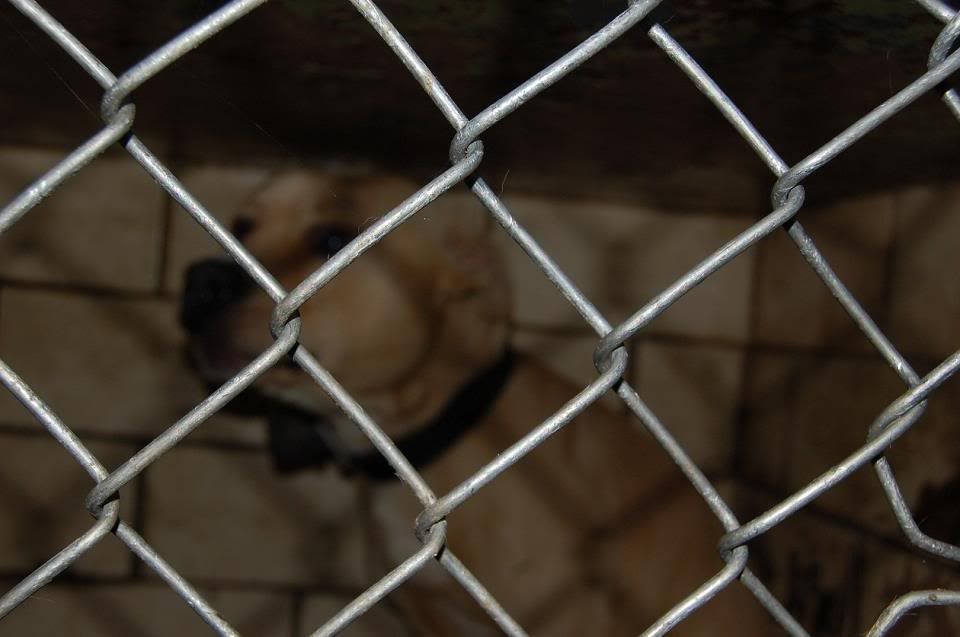 BUZZ  Pit Bull ~ EUTHANIZED ~ Buzz was a sweet 1 yr old boy who was brought in as an owner surrender. He was a nice boy and didn't mind the other dogs at the pound.  
     Unfortunately, most overlooked shelter animals like Angelica do not have a "happy ever after" story. The few that  are accidentally overlooked for euthanasia are ultimately discovered and killed. Many others die in shelters because they are ignored or intentionally overlooked by potential adopters and rescues. People deem them to be unadoptable or unacceptable because they are the wrong color (black), the wrong breed (mixes and Bully breeds), the wrong age (seniors and  teenagers in the awkward stage), or the wrong size (large breed dogs).  Some are not pretty enough to catch the eye (plain brown dogs and gray tabby cats) or they are too shy or frightened by the noise and chaos of the shelter. Some have minor flaws, disabilities, or special needs. All are deserving of love and homes. Since many dogs and cats have only a small window of opportunity in which to find a home or rescue, those who don't make a good first impression, who are seen through the bars of a cage or run, or in a blurry, poorly taken photograph posted online, often lose their lives. Sometimes we have to look beyond the dirt, the fear, the uncertainty in those pleading eyes and take a chance. Like me, you may find a diamond in the rough.
It is only with the heart that one can see rightly;
what is essential is invisible to the eye.  
~Antoine de Saint-Exupry
***********************************************************************