***********************************************************************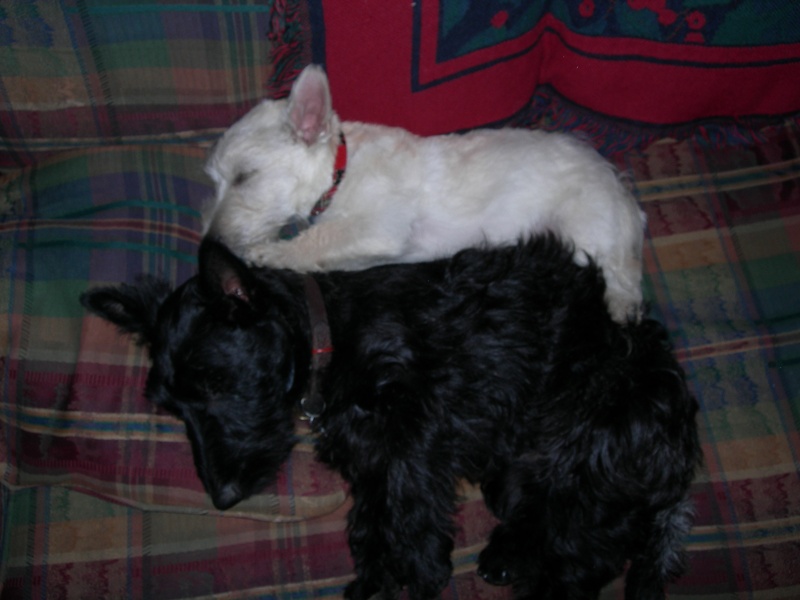 Ballantine and Macallan when Macallan was a baby.
   Last night Ballantine played with a ball. Not a large one, but a small ball that, if she had a lower jaw, she could have picked up and chewed. This milestone is a small miracle. Thirteen months ago Bally was given a death sentence. She was diagnosed with a highly aggressive cancer of the lower jaw which, in a two week period, went from undetectable to the destruction of her lower jaw.
     Last night Bally searched for a toy in the toy basket, discovered the ball, and pushed it around with her nose. Macallan, our Wheaten Scottie who has malformed front legs, soon joined in. Despite his handicap, Macallan is highly mobile. Every evening he entertains us by streaking around the family room and dining room, sometimes with the others in pursuit, but most often all by himself. His walking gait is a little slow and wobbly, but he can run like the wind.
     The game between Bally and Macallan became  a battle of wits.  Macallan would grab the ball and run off and Bally would pursue him, nudge the ball with her nose, and roll it away. When the ball rolled behind the door, Bally pushed the door with her nose and retrieved it. The game continued back and forth with each dog momentarily getting the upper hand. When both dogs tired of the game, Bally the victor sat with the ball between her front legs.
     Watching Ballantine and Macallan play, I was reminded of the adaptability of animals and their strong will to live.  Humans complain and lose patience over the most trivial things...the red light is too long, the person in front of us in line has too many items or is taking too long to pay, our cell phone has lost reception.  We assume that we are superior to animals, but I believe that the ability of animals to adapt and overcome the seemingly impossible is a trait many humans lack. Instead of adapting, we change the world to suit us...which often harms others and causes more problems.
     Ohno and Walker, our two senior Scottish Terriers, came into our home as six year olds after they were displaced by the death of their elderly owner. They quickly become members of our family and found their place in our pack more easily than I had expected.  Macallan runs, plays, and dominates all of his fur siblings except for Bally even though he is the weakest member of the pack. And Ballantine, who lacks a lower jaw, has learned to bark, play, and enjoys life to the fullest.
      Living with my dogs has given me a different perspective on life. Things that we believe we cannot achieve and problems we think we cannot overcome should not stop us from trying. As stated by Daniel Pinkwater, "The old saw about old dogs and new tricks only applies to certain people."
***********************************************************************