***********************************************************************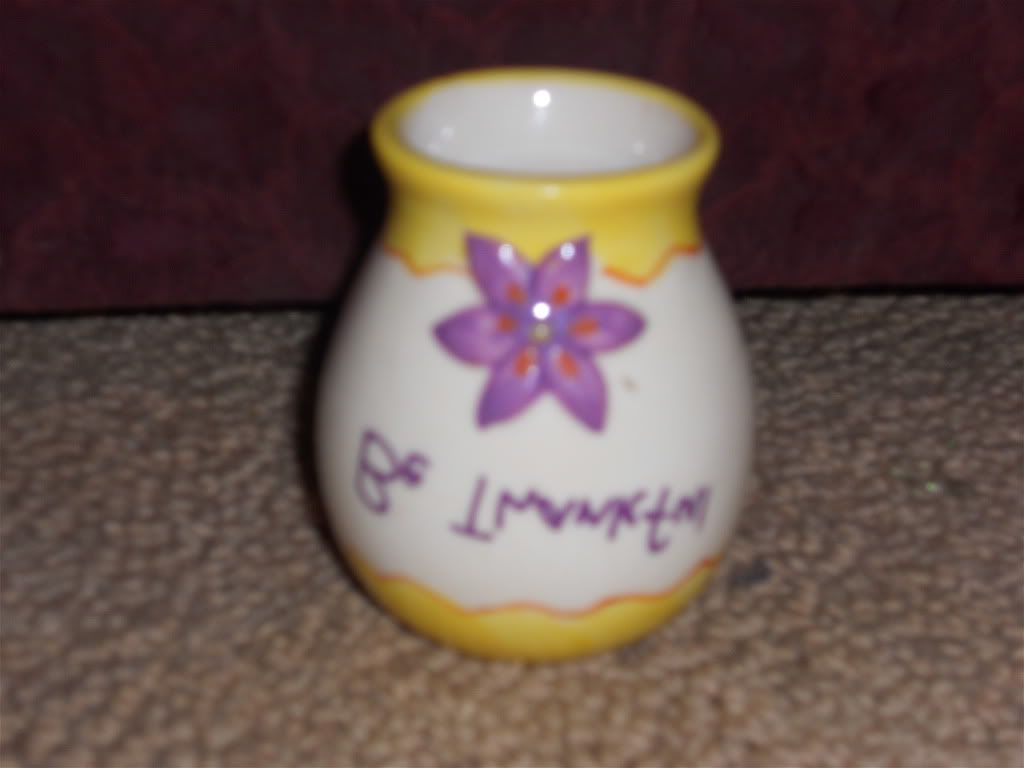 For many years, when my daughter was still living at home and then when she came home on breaks from school, we had a nightly ritual - we would watch the Jay Leno Show together. We enjoyed his guests, his brand of humor, and his verbal exchanges with Kevin, the show's bandleader. However, our favorite part of the show was the regular feature before the guests were introduced. The ones that always made us laugh were Jaywalking, The Photo Booth, Headlines, Gas Pump News, and Favorite Finds at the Dollar Store. We could identify with Favorite Finds because we occasionally shopped at a local store that sold everything for a dollar. The items shown on the Jay Leno Show were always a little "off" which was what made them humorous and the reason why they were being sold at bargain basement prices at a dollar store.
     One day while my daughter and I were shopping at our local dollar store we came upon a candidate for the Jay Leno Show: a three inch tall combination vase/magnet with the words "Be Thankful" written on it. What made this object so unique was the fact that the words had been applied upside down and backwards. To clearly read the message you had to hold the vase/magnet upside down in front of a mirror. The vase had to be mine. For a brief moment I thought about submitting it to the Jay Leno Show, but that would have meant sending it off to Los Angeles. Once the vase/magnet was in my possession I couldn't bear to part with it. This "treasure" now sits on my desk next to my computer where it is a constant reminder for me to "Be Thankful."
     This week my husband and I drove to the veterinary clinic at Ohio State University in Columbus, Ohio for our dog Ballantine's five month post-op visit. Bally underwent surgery to remove her cancerous lower jaw on June 14th of this year. At the time of diagnosis, Bally's prognosis was grim. The diagnosing veterinarian had recommended that Ballantine be immediately euthanized. Grasping at straws and searching for hope, I sought advice from others and ultimately received a referral to the OSU clinic. As a result, we have had five additional months with Bally that we had not thought possible. If I hadn't listened to that little voice in my head that told me not to give up and had not taken a leap of faith based on my intuition, heart, advice from others, and in truth, plain stubbornness, Ballantine would not be with us today.
     The fact that Ballantine is living with cancer has changed my perspective on life. I have learned that we must take joy whenever and wherever we can find it. Having my five dogs greet me every morning, watching them play together, and seeing Ballantine as part of our "herd of puppies" are gifts I receive every day. I know that I made the right choice for Bally and that she enjoys each day she has been given despite the pain she has endured and the losses she has sustained. I can see it in her eyes, in the dirt on her nose after she digs somewhere in our backyard, in the way she eagerly laps up her food, by the fact that she has resumed her role as the alpha female, and in how she seeks me out and snuggles close to me on the sofa every evening.
      Both Bally and I have suffered losses and our new lives are different than our old lives. I no longer throw a ball in the backyard for my herd of five because Bally can't participate since she has lost the ability to pick up a ball. Special treats like chew sticks are rare and handed out only if Ballantine is in another room having one on one time with us. The days when all five dogs would line up and patiently wait their turn while I handed each one a tidbit left over from a meal have become treasured memories. There are no more games of tug-of-war.
     Ballantine's most recent checkup was not the clean bill of health we were hoping for and expecting, but we knew there would be good days and bad days when we chose life instead of death for Bally. On the dark days when I am on the brink of losing hope, I look at the little vase/magnet on my desk to remind me to "Be Thankful."
The birds they sang
at the break of day
Start again
I heard them say
Don't dwell on what
has passed away
or what is yet to be...
Ring the bells that still can ring
Forget your perfect offering
There is a crack in everything
That's how the light gets in.
From "Anthem" by Leonard Cohen
***********************************************************************