***********************************************************************
Spaying is a compromise in terms of reverence for life, but perhaps a necessary one in a society which kills millions of dogs and cats a year in "animal shelters".  ~James Marcus
Five years ago my daughter left home to attend a state university.  During her first week at school she visited a tobacco farm in a rural area several miles from the university. The farm was owned by the grandparents of another student who lived in the same dorm as my daughter. While the girls were touring the farm, a scrawny kitten started following them. When my daughter asked about the kitten and others she had seen around the farm, the grandmother stated that she had two unwanted litters of kittens...and both litters and two mama cats would soon be "leaving" the farm. The grandmother explained that they had more cats than they needed, so she was planning on taking the cats and kittens to a local high kill shelter, placing them in a bag and dropping them off a nearby bridge, or taking them for a "ride" and abandoning them on the side of the road. She had used all three methods to dispose of previous unwanted litters.
     Of course, my daughter was horrified. As soon as she arrived back at her dorm, she called me. I told her I would try to find places for the unwanted cats and kittens. Over a period of several days I called and emailed every rescue I thought might be able to help. I received some suggestions, but no offers of help. The following week, my daughter drove back to the farm. The grandmother placed nine kittens in a cardboard box and handed it to my daughter. She then tried to force the two mama cats in the back seat of my daughter's car. One of the cats jumped out and ran off.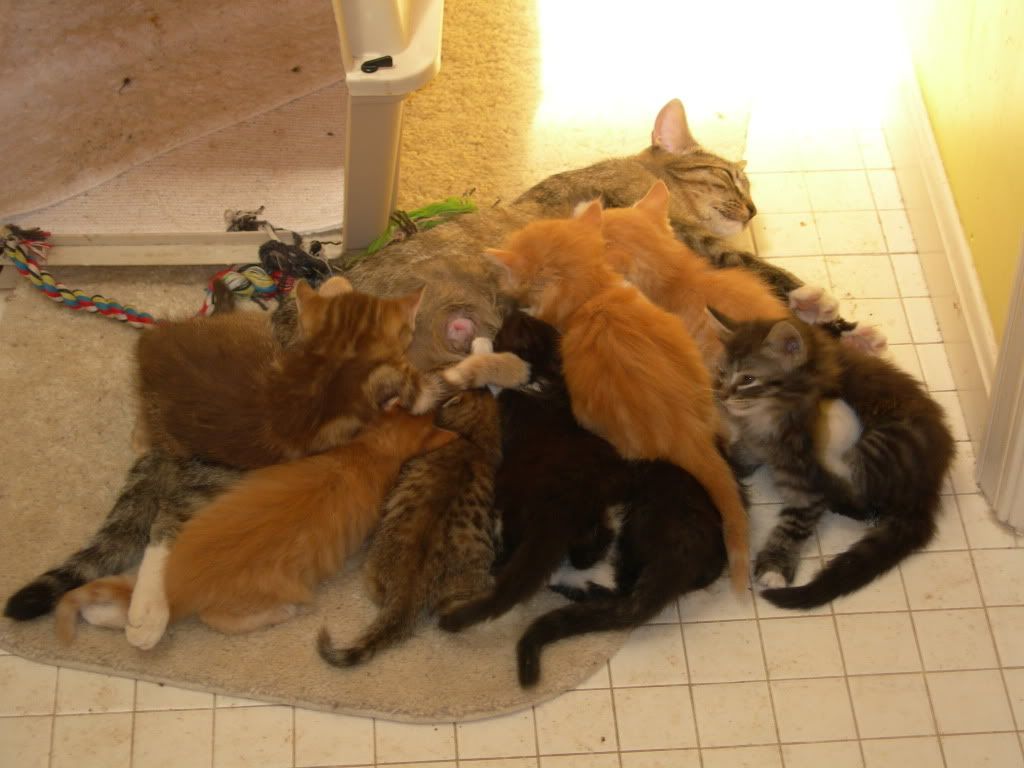 Two hours later my daughter brought the one mama cat and nine kittens to me. All were dirty and flea infested. The mama cat was skinny and had a dislocated hip. I spent the next several hours washing all of the new arrivals twice with Dawn dishwashing liquid to remove the dirt and kill the fleas. I then handed each one to my youngest son who carefully dried them and used a fine tooth comb to remove the dead and dying fleas. The following day I took the mama cat and kittens to a veterinarian who weighed and examined all of them. Surprisingly, all were in good health. I was advised to feed them high quality cat/kitten food and that the mama cat's dislocation would resolve on its own. A few days thereafter a cat rescuer responded to my plea for help. My family fostered the mama and kittens and the rescue provided vet care. The kittens and cat were fully vetted and posted on the rescue's Petfinder site. Several of the kittens were adopted. The remaining kittens and the mama cat are still with me.
     The story didn't end there. The week after the mama cat and kittens arrived at my house, the rescuer called the grandmother and offered to spay the remaining mama cat and any other cats on the farm for free. The grandmother refused the offer. She saw no need to have the remaining mama cat spayed even though she had planned to dispose of the cat and she had spayed her personal "house cat". The remaining mama cat and any future offspring were of no value to the farm. They were considered to be disposable and easily replaceable...and that is one of the reasons why shelters and rescues are overflowing with unwanted cats and dogs. Too many people are set in their ways and are not open to change or new ideas, even if the cost or inconvenience to them is minimal and the benefits are long lasting and save lives.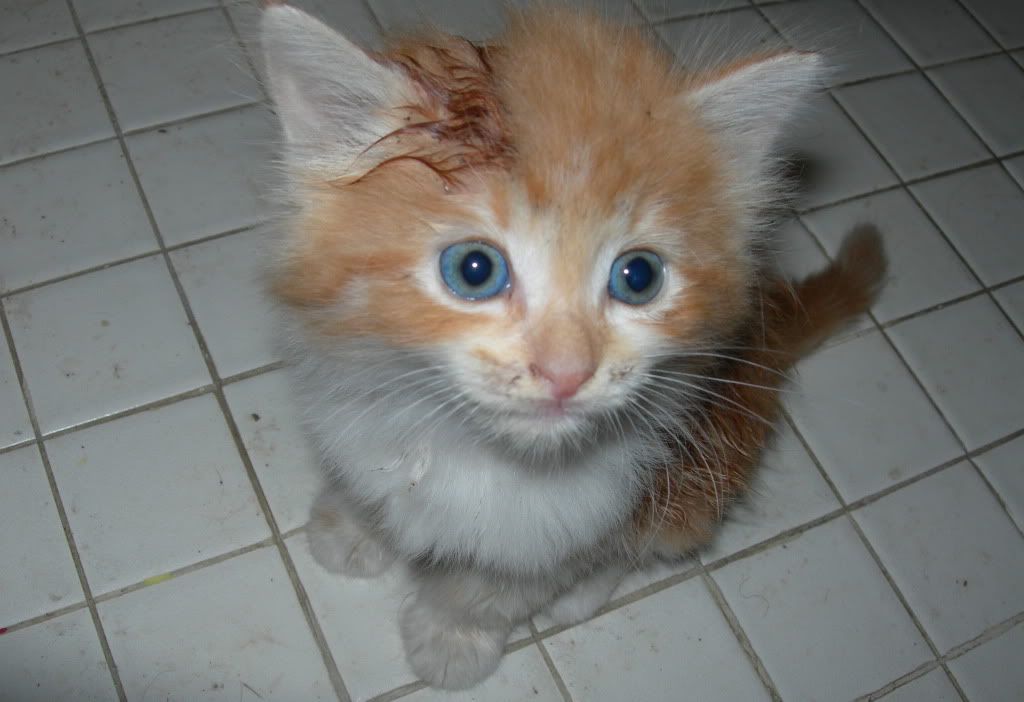 A Cat's Prayer ~ I ask for the privilege of not being born...not to be born until you can assure me of a home and a master to protect me, and the right to live as long as I am physically able to enjoy life... not to be born until my body is precious and men have ceased to exploit it because it is cheap and plentiful.  ~Author Unknown
     So how do we solve a problem created by ignorance, indifference, and irresponsibility? How do we convert hearts and minds that are resistant to change? I wish there was one simple solution; one quick, easy fix that would prevent abuse, neglect, abandonment, and the constant killing, but more than one strategy is needed. We need new approaches, innovative ideas, and low-cost programs that reach and destroy the roots of the problem. I recently received an email with the message posted below. Please read, share, and donate if you can. Ideas like this will bring us one step closer to becoming a truly humane society where all life is valued.

Subject: Spay-A-Thon
Hey everyone,
     Please take time to go to our website and view our new video.  http://flemingregional.com/  or view it on Youtube: http://www.youtube.com/watch?v=iGvs5TKP1mM&feature=youtu.be
     We are beginning the journey of our lives and could really use your help spreading the word. We are on a mission to drastically reduce, and possibly even eliminate (yes, it's a lofty goal), the number of unwanted animals in this area of rural eastern KY.
     We have started by convincing owners of pets with litters to spay the mother and in return, we will alter the entire litter at no cost at the age of 7 weeks. It is working!
     We are working hard to stop the suffering, the feeling of being all alone, the gnawing hunger, the weariness of wandering, and the shear fear of what will happen next. We want to put it all to a stop, and we will with the help of others. We need funding immediately. If everyone who watches this video could give $1 to $10, and then passed it on to only 10 of their friends, imagine what that would do for these animals! Think of how many births we can prevent. Just think of how many lives will be saved!
     The animals you see in our video are the animals that we worked endless hours to save. We have been a shelter, a rescue, a transporter and now, a spay neuter clinic. These very animals, along with so many more, have brought us joy, despair, hope and heartbreak . And with it all, just when we feel we cannot continue, we look into their eyes, and once more, they inspire us to push on.
     We hope everyone who sees this video featuring these precious beings will find it in their hearts to give what they can. If you cannot give anything towards this goal, please pass this on to others, post it on your facebook pages, and help spread the word far and wide. Please help us prevent other animals from the fate they face if we do not stand up for them and make it stop!
     Please send this to every contact you have and ask them to do the same. We will need the continual support and funding to get a grip on this situation.
     Thank you to all who support us in this journey of saving thousands from suffering by one spay at a time.
     To see our inspirational video and/or to donate, go to flemingregional.com
     Thank You!
     Tim, Stephanie and Taylor Stamper
PLEASE CROSSPOST WIDELY!!!!!!
CONTACT: Tim Stamper flemingregional@yahoo.com with any questions
 For each CAT we spay and neuter, we prevent the birth of 74 unwanted kittens in ONE YEAR.  For each DOG we spay and neuter, we prevent the birth of 100 unwanted puppies in ONE YEAR. ~The American Society for the Prevention of Cruelty to Animals (ASPCA)
***********************************************************************